Developer who bribed ex-L.A. Councilman José Huizar asks for leniency as feds seek 7 years
Dae "David" Yong Lee will be the first person sentenced in the Casino Loyale public corruption probe since ex-L.A. City Councilman Mitch Englander in January 2021.
Federal prosecutors say a developer convicted of bribing former Los Angeles City Councilman José Huizar should spend seven years in prison, and they're differentiating him from Huizar by referencing the disgraced politician's "public and fulsome admission of corrupt conduct."
Unlike Huizar, Dae "David" Yong Lee fought his criminal charges in a jury trial instead of copping a plea, and his "new 'admissions' now minimize the scope and seriousness of his conduct and place the true blame on others," according to a recent filing from the U.S. Attorney's Office in Los Angeles.
Huizar's plea deal calls for a sentencing range of nine to 13 years in prison, which prosecutors describe as a "significantly longer sentence" than the 84 months they want Lee to serve. They dismiss Lee's lawyers' reference to former Los Angeles City Councilman Mitchell Englander's 14-month prison sentence for unreported gifts in Las Vegas and Palm Springs because Englander's crimes "involved ethical violations that had not yet ripened into federal bribery, which is in stark contrast to defendant Lee soliciting a public official's assistance for half-a-million dollars to resolve a pending City matter."
Huizar, who resigned from the Los Angeles City Council in 2020 after 15 years, pleaded guilty in January to felony tax evasion and racketeering conspiracy and is scheduled to be sentenced on Dec. 15. A jury on June 27, 2022, convicted Lee and his company 940 Hill LLC of three felonies each: honest services wire fraud, bribery and falsification of records in federal investigations.
As prosecutors call for seven years, the U.S. Probation Office is recommending Lee be sentenced to five years in prison, while his lawyers are asking for 20 months.
"Mr. Lee has spent his whole life making the lives of everyone around him better, and his conviction shocked them all. He asks that the Court minimize his absence from those he holds most dear, and from those who have depended on him, in light of the good life he led before he went astray," according to a June 30 defense memorandum.
But prosecutors say 58-year-old Lee, who lives in a luxury home in Los Angeles' tony Bel Air neighborhood and used to store millions of dollars in cash in his office, needs a prison sentence that "will provide general deterrence to developers and others who may believe that they can pay bribes to enrich themselves without impunity."
"Having significantly undermined the public's faith in its political institutions, business communities, notions of fair play and justice, and the citizens of Los Angeles's trust in the integrity of their institutions, defendants Lee and 940 Hill have earned firm, meaningful sentences," according to a July 7 brief by Assistant U.S. Attorney Cassie Palmer, deputy chief of the Public Corruption & Civil Rights Section for the U.S. Attorney's Office for the Central District of California.
'I feel great shame and sadness,' Lee writes judge
Lee was born in Korea and grew up in Brazil. He and his sister moved to the United States in 1984 on student visas to attend school in New York, then moved to Los Angeles' Koreatown in 1987 to be with their parents. He opened the JOIA Accessories fashion retail store, which prosecutors said "became a thriving business that employed around 100 full-time employees."
Prosecutors filed as exhibits several photos that were taken during the federal raid at JOIA, some of stacks of cash and others of cash-counting machines.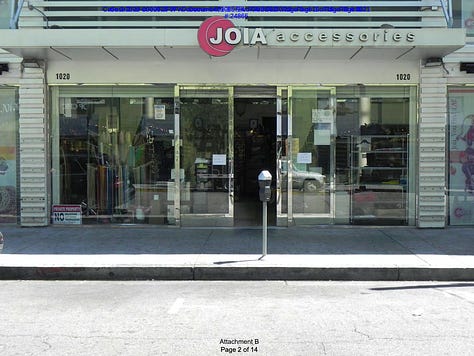 Lee's lawyers, meanwhile, filed with their memo 94 pages of letters from parishioners at the church where he is an ordained deacon, as well as from friends and family. His daughter, Sofia Lee, is an associate at Kirkland & Ellis LLP in Washington, D.C.
"With my dad's support, encouragement, and the core values he instilled in me, I was able to achieve my dreams of becoming an attorney. My dad is not a perfect man, but he is the perfect dad," she wrote.
The elder Lee also wrote a seven-page letter detailing his life and family.
"While I feel disappointed in the jury's verdict, I have accepted their decision and would like to move forward," Lee wrote.
His daughter's letter doesn't mention Kirkland & Ellis, but Lee's letter says she "works as an intellectual property litigation associate at Kirkland & Ellis in Washington, D.C" and earned an Ivy League bachelor's degree from Cornell University, as did Lee's two sons.
"I feel great shame and sadness thinking about my children having a felon as a father, and my wife having to live in the community with her husband convicted of crimes and going to jail," Lee wrote. "The public reaction to this case in the Korean and English press has been so difficult for my children and my wife. They question me in a way they never did before, and I know that the pride they used to feel for me has suffered so much."
Lee has been free on $300,000 bond since his arrest in December 2020. He's to be sentenced on July 21 by U.S. District Judge John F. Walter, a 2002 George W. Bush appointee who is handling all charges related to Huizar's conspiracy.
Lee will be the first human defendant Walter has sentenced since he sent Englander to prison for 14 months in January 2021. The judge in May sentenced Shen Zhen New World I, LLC to a $4 million fine and five years probation after a jury last year convicted it of eight felonies for paying Huizar $1 million in bribes. The company is owned by billionaire Wei Huang, a Chinese citizen who is wanted on bribery and honest services fraud charges. It was seeking to develop the L.A. Grand Hotel in downtown Los Angeles, which is one of two developments Huizar admitted to leveraging for his bribery conspiracy. 
Huang is one of two defendants with unresolved charges in the City Hall corruption scandal, which the FBI dubbed Operation Casino Loyale because it centered on Huizar's Las Vegas gambling trips with Huang. The other is Raymond She Wah Chan, a former Los Angeles deputy mayor whose first trial ended in a mistrial after his lead defense attorney, Harland Braun, was hospitalized in March. Chan, 67, is scheduled to begin trial with his new lawyer, John Hanusz, on March 12, 2024.
Huizar's ex-assistant was key witness against Lee
Huizar's longtime assistant, George Esparza, testified for prosecutors in Chan's and Lee's trials. In Chan's, he detailed lavish trips to Las Vegas at Huang's expense that included big-money gambling and rendezvouses with prostitutes, and he described storing bribe money for Huizar in liquor boxes in his bedroom at his grandparents' home while helping his boss run a criminal enterprise that routinely sought cash and other benefits from developers such as Lee.
Esparza also testified that, as part of their bribery scheme, Huang paid Huizar's $600,000 settlement in a sexual harassment lawsuit filed by one of his City Council staffers. He said Huang laughed that Huizar's accuser was "most expensive pussy he's ever paid for" as they partied in Las Vegas after the deal.
Esparza was a key witness in Lee's trial because he helped facilitate Lee's $500,000 bribe to Huizar. So was Justin Jangwoo Kim, a real estate appraiser who was close with Lee and "moonlighted as a top fundraiser for Huizar," according to the prosecution's sentencing recommendation for Lee.
At the time of the bribe, Lee owned several businesses, had successfully developed projects such as Stanford Plaza in the downtown Fashion District and owned properties worth more than $180 million.
One property is a lot on 940 S. Hill Street in downtown Los Angeles, where Lee and his business partners hoped to build 14,000 square feet of commercial space and 232 condos. They'd worked with the Los Angeles City Planning Department to obtain required approvals, but a labor group's appeal in August 2016 put them in Huizar's orbit at the height of a conspiracy that Huizar confessed turned his downtown City Council District 14 into a criminal enterprise.
Wanting to rid himself of the roadblock, Lee sought help from Kim, who contacted Esparza and eventually helped broker the $500,000 bribe to Huizar. Lee paid the money in cash in three drops to Kim in February, March and April 2017. 
Jurors concluded that Lee tried to thwart the FBI investigation by instructing an employee to falsify accounting and tax records after receiving federal grand jury subpoenas for records related to Huizar. Prosecutors say Lee also "expressed nonchalance (in his own words) about the prospect of getting caught, stating he had been 'hit by the IRS about five, four times,' and the first time, he thought he might have 'to run away to Korea,' but after 'the third and fourth time, [he] became nonchalant."
"Defendant Lee urged his co-schemer not to worry, reasoning the investigators were just employees and his bribe here was 'probably [chuckling] just a drop in the ocean,'" according to prosecutors' June 30 memo, which spans 51 pages.
Judge Walter cited Lee's "just a drop in the ocean" quote in his Dec. 5 order rejecting his motion for new trial or judgment of acquittal. Walter said the evidence supporting Lee's convictions was "more than sufficient."
Lee's lawyers had cited the public benefit of his project when arguing he couldn't be convicted of honest services fraud, but Walter said the argument "borders on the frivolous."
"Contrary to this theory, the citizens of Los Angeles are entitled to have their public officials make decisions free from the influences of bribery," the judge wrote. "Accordingly, regardless of whether the 940 Hill project ultimately benefitted Los Angeles, the scheme deprived the citizens of Los Angeles of their right to those honest services."
Prosecutors noted Lee's "extensive" access to cash in their memo by referencing a separate money-laundering investigation involving Mexican drug cartels that included a raid at Lee's office, where investigators seized $4.2 million.
"After the filing of the charges against defendants Lee/940 Hill (more than six years later), defendant Lee requested that the government return the seized cash, which the government did," according to the memo.
By then, Lee had a huge new expense: Bird, Marella, Boxer, Wolpert, Nessim, Drooks, Lincenberg & Rhow, P.C., the Los Angeles-based litigation boutique he hired to defend him in the Huizar scandal. Principal Ariel A. Neuman and Of Counsel Ray S. Seilie handled Lee's nine-day trial as well as the post-trial motions, and they're continuing to represent him for sentencing.
The defense position
Neuman's and Seilie's 32-page memo asks Judge Walter to consider Lee's crimes "not in isolation, but in the context of the nearly sixty years he has spent diligently building a good life in which he helped and lifted up family members and strangers alike."
"Mr. Lee's mistakes with regard to 940 Hill, while grave, were an aberration when viewed in the context of his entire life," the memo begins. "The limited window of conduct that was presented at trial does not accurately reflect the hardworking, honest person that he has been in all other aspects of his life."
Lee "understands that a just punishment is required," the memo says, but the standard sentencing range of 97 months to 121 months in prison "would result in a punishment greater than necessary."
Neuman and Seilie want Judge Walter to consider Lee's range to be 78 months to 97 months to reflect a proposed amendment to the U.S. Sentencing Guidelines. They then want him to greatly depart from that and impose a 20-month prison sentence, a $150,000 personal fine and a $600,000 fine for Lee's LLC, which Lee has promised to pay himself instead of his business partners.
Neuman and Seille cite not only Lee's achievements but the expected sentence for Huizar when asking for leniency.
"As to deterrence, the investigation as a whole shined a light on corruption at the highest levels of Los Angeles city government, and the numerous convictions that resulted will hopefully have a deterrent effect going forward," they wrote. "However, this sentence is not the sentence which should be designed to deter public officials who may choose the path of corruption; the Court will address that in sentencing hearings for Huizar and others."
Legal Affairs and Trials with Meghann Cuniff is a reader-supported publication. To receive new posts and support my work, consider becoming a free or paid subscriber.
Huizar's U.S. Sentencing Guidelines range is 262 months to 327 months, which is nearly 22 years to just over 27 years. Prosecutors' agreement to instead recommend between 108 months and 156 months "demonstrates that a significant departure from the Guidelines along the lines of what Mr. Lee is requesting here is appropriate," according to Lee's memo.
Neuman and Seilie also reference Englander's 14-month sentence when arguing Lee deserves less time for obstructing justice than the former councilman received. They cite seven other cases involving public officials, including former Virginia Gov. Bob McDonnell, who, before his convictions were overturned, was sentenced in 2015 to 24 months in prison despite a Guideline range of 121 months to 151 months. They also cite former San Diego City Councilman Ralph Inzunza's 21-month sentence in 2003 for extortion and wire fraud.
"It would be a travesty of justice if Mr. Lee received sentences anywhere near the sentences imposed on some of the most prominent corrupt politicians. A 20-month sentence and significant fine would both emphasize the seriousness of Mr. Lee's offense while also remaining proportionate relative to the sentences historically imposed on much more serious offenders," according to the memo.
The prosecution position
Prosecutors said Lee's sentencing papers reflect his long-stated plan to blame Huizar for his crimes. He told Kim in March 2019, after receiving a federal subpoena for records related to Huizar, that they should tell the FBI "we were both played by Huizar." He told Kim on another occasion not to "worry too much" because Huizar and Esparza "probably pocketed tremendous amounts" over the last 10 years.
"During that conversation, defendant Lee exhibited the demeanor of someone used to government scrutiny of his business practices and someone accustomed to getting away with things," according to the July 7 brief from Palmer, who's prosecuting Lee with Mack Jenkins, chief of the Central District U.S. Attorney's Office Criminal Division.
Kim secretly recorded both conversations for the FBI.
"Indeed, defendant Lee would justify his crimes by presenting facts contrary to the evidence at trial: that he was a 'victim' who was extorted by Huizar and Esparza and manipulated by Kim," according to the brief. "The jury saw through this blame game at trial, and the Court should decline to credit it now."
Prosecutors said the law bars Judge Walter from weighing mitigating factors at sentencing "to favor certain classes of defendants and disfavor others."
"Importantly, defendant Lee's prior privileged status and the attendant financial opportunities and socioeconomic advantages are simply not mitigating factors. Along those same lines, the loss of defendant's stature and reputation in the community, in many ways, is merely a reflection of that privileged background and a consequence of his own criminal and unethical actions—and not a consequence of his sentence, which must reflect the seriousness of the offense," prosecutors said. 
They also said Lee's supportive letters "are laudable and somewhat mitigating," but Judge Walter "should consider the letters in their proper context and refrain from giving them undue weight."
"On balance, defendant's well-lived life and social resources suggest he is less likely to re-offend, but also cut against him because those relationships and resources did not prevent him from offending in the first place," according to the brief.
Prosecutors preemptively dismissed the argument that Lee's background warranted a more lenient system, saying in their original 51-page memo that the opposite was true.'
"Thus, unlike so many defendants who appear before this Court for sentencing, defendant Lee was not someone who was driven by desperation or trauma or deep-seated addiction; he was driven by greed and self-interest," they wrote. "Thus, his background and circumstances provide no explanation for--and certainly no mitigation for--his serious crimes; indeed, they can also be fairly seen to be aggravating given they did not stop him from making repeated criminal choices that he did not need to make."
Prosecutors initially recommended a $1.5 million fine against 940 Hill and a $750,000 fine against Lee, which matches the U.S. Probation recommendation. Their July 7 reply says "an offset…is appropriate" because Lee owns 56.25 percent of the company, so the $1.5 million fine can be reduced to roughly $1.07 million and still be effective. But any further reduction is unwarranted, they said.
"To decline to punish defendant 940 Hill on this basis would sanction its bribe-paying conduct and send a very public message that bribe-paying companies can immunize themselves from meaningful punishment where punishment would hurt other investors. That is not, and cannot be, the case," they said.
The other defendants
Here's a summary of all plea deals and recommended sentences:
Past coverage:
I discussed Chan's trial with former Los Angeles City Councilman Mike Bonin on his podcast "What's Next, Los Angeles?" in March.
Here are my articles about the trial:
March 6: Lawyer's illness halts L.A. City Hall bribery trial
March 3: Former L.A. Planning Commission president testifies about strange meeting with Ray Chan
March 2: Testimony implicates ex-L.A. Deputy Mayor Raymond Chan in developer's $600K sex harassment settlement bribe to José Huizar
Feb. 25: 'This is scary, boss': Jurors hear ex-Los Angeles Councilman Huizar's covert bathroom meeting
Feb. 22: 'Your Honor! This is proper!' Harland Braun gives his opening statement in ex-L.A. deputy mayor Raymond Chan's federal corruption trial
Case documents are available below for paid subscribers, including Lee's letters of support and his letter to Judge Walter. Your paid subscriptions make it possible for me to do things such as attend Lee's sentencing in person on July 21 at 8 a.m. in downtown Los Angeles.
This post is for paid subscribers