Racial issues still lurk in toymaker's new trial with T.I. and Tiny Harris over OMG Girlz and dolls
After controversy erupted over questions about the n-word in lyrics, lawyers have returned for a second trial in an infringement case over dolls popular with Black girls.
Links to PDFs of key filings in this case are available at the end of the article for paid subscribers to Legal Affairs and Trials with Meghann Cuniff. If you're not a paid subscriber, please consider upgrading to support my independent legal affairs journalism.
---
---
---
MGA Entertainment Inc.'s trial strategy in a contentious lawsuit with hip-hop moguls T.I. and Tiny Harris focuses in part on the popularity of the girls' music group the toymaker is accused of imitating through its L.O.L. Surprise! OMG Dolls.
"The OMG Girlz simply were not a big popular act like they're claiming they were," lawyer Jennifer Keller said in her May 10 opening statement at the federal courthouse in Santa Ana, California.
Tiny's daughter Zonnique Pullins and her friends Bahja Rodriguez and Breaunna Womack together earned $29,116 as the OMG Girlz before disbanding in 2015, Keller said. Their earnings were "about the same as a decent wedding swinger or maybe a DJ," Keller said, and far from the $100 million or more they're seeking from MGA for profits associated with 31 dolls they believe are based on them.
"Let me be straight about their popularity. Counsel speaks of them as if they were the Beatles, Michael Jackson and Taylor Swift combined, but they didn't sell one album. Not one," Keller said. "The OMG Girlz simply were not a big popular act like they're claiming they were. They were largely unknown, except for a certain segment."
But T.I. and Tiny's lawyer John Keville said the group's popularity with Black girls is enough to explain MGA's interest, and an internal MGA email shows why.
"You'll see that's exactly who the OMG dolls were targeted to," Keville told jurors in his opening, displaying an email an MGA executive sent CEO Isaac Larian in 2019 that said, "We need to be careful to protect our non-white OMG base. OMG skews nonwhite. Specifically black."
The email highlights the sensitive racial issues still at play nearly five months after the first trial ended in a mistrial because jurors mistakenly heard deposition testimony from a woman who said she stopped buying the OMG dolls because, "I did not want to support a company that steals from African Americans and their ideas."
T.I.'s and Tiny's lawyers described Keller's trial tactics as "racist" in a post-mistrial brief and said she "weaponized" the n-word in her questioning. That led Keller's co-counsel Chase Scolnick of Keller/Anderle LLP in Irvine to say the characterization was false and omitted that Keller was quoting Zonnique's song lyrics when she said the word. Scolnick requested approximately $75,000 in sanctions, as well as a forced apology from the attorney who filed the brief and a referral to the Central District of California's disciplinary committee.
Senior U.S. District Judge James V. Selna vacated a hearing on the motion then waited more than two months before issuing an order that said Scolnick's request "invokes-either directly and indirectly-the sound discretion of the Court. The Court declines to exercise its discretion."
"The new trial turns a new leaf. The Court will hold the parties to the highest ethical and professional standards," according to the May 1 order.
Questions about 'n-word' lead to controversy over racism
Scolnick said in a Feb. 16 filing that he and Keller don't intend to focus on the n-word in song lyrics during the second trial.
In the first trial, Keller said the full word repeatedly when questioning Zonnique about her own use of the word in song lyrics. An older male juror told Keller after the mistrial that he felt she was trying to appeal to racism. He expanded on his comments in an interview outside the courthouse.
"I thought, 'What are you doing this for? You're just trying to rile up people's racist feelings against Black people by saying this is how they talk and this is what they do.' And it's like, what does that have to do with this case?" he said.
T.I.'s lawyer Erin Ranahan of Winston Strawn LLP described Keller's behavior as "racist" in an opposition to the mistrial filed hours after Selna declared it, which led to Scolnick's unsuccessful sanctions motion.
Scolnick said Ranahan "personally attacked MGA's lead counsel, making grossly inappropriate, false, and inflammatory claims that she is a racist" while not including the full context of Keller's questions. He called the "racist" description "scandalous and vitriolic."
The motion said people who shared Ranahan's filing on social media, gave "a megaphone to her defamatory comments," which "also jeopardized the proper administration of justice, as it threatens to mislead and taint the view of the public from which a new jury will be selected."
Ranahan's "tactics betray her true goal," the motion said, which is "to win by stoking the fires of racial division and make this case about Black v. White."
Ranahan said in her opposition that characterizing Keller's conduct as racist "is not sanctionable" and is instead "a subjective opinion many Americans would undoubtedly agree with."
"Ms. Keller should not be immune from scrutiny for her decision to present the N-word in a highly inflammatory manner," Ranahan wrote.
Judge Selna didn't specifically address the controversy when he rejected the motion.
But the judge has not hesitated to wade into sanctions issues in the past: Shortly before the first trial began, he sanctioned Ranahan $1,000 for comments she made during depositions that the judge said were "clearly coaching" and "unnecessarily argumentative."
It was far from the $93,381.21 Scolnick and Keller requested. Selna also declined their request to bar the depositions from trial, which were of consumers who said they purchased OMG dolls believing they were associated with the OMG Girlz.
Selna wrote, "The testimony of these witnesses certainly show some consumers could be confused."
Legal Affairs and Trials with Meghann Cuniff is a reader-supported publication. To receive new posts and support my work, consider becoming a free or paid subscriber.
'This case is about greed. It's a shakedown.'
Keville, managing partner of Sheppard Mullin Richter & Hampton LLP's new office in Houston, Texas, joined the case after the mistrial, taking over for Winston Strawn's David Scheper in Los Angeles.
He's working with B'Ivory LaMarr, a solo practitioner in Houston, as well as associate Chantel Westmoreland, who with Keville joined Sheppard Mullin from Winston Strawn last year.
Ranahan does not have a speaking role in the second trial but has been in court each day. She's also been mentioned in testimony: Keller mentioned her on Thursday when cross-examining Womack about how she become involved in the case. A native of Mobile, Alabama, Womack joined the OMG Girlz in 2010 when Zonnique and Bahja were looking for a new member, and she said she's hopeful to return to performing.
In cross, Keller worked to portray Womack as wistful for her glory days and somewhat duped into the lawsuit by Tiny and her attorneys. She also asked Womack about Ranahan contacting her the night before her deposition to offer representation.
"Is it your understanding that because they are representing you, I can't ask you anything, for example, about anything you may have been told to emphasize or not emphasize. True?" Keller asked.
"I'm not sure what you're asking me," Womack said.
Selna interjected, "We're not going to pursue this line of questioning any further."
Keller moved into questions about Womack's financial interest in the lawsuit, which stems from her 16 percent interest in the OMG Girlz LLC. Keller emphasized that Womack could get 16 percent of any damages jurors award to OMG Girlz LLC, which is a counter claimant with T.I., Tiny and their LLCs, Grand Hustle and Pretty Hustle.
"That's more money than you've ever made in your life, isn't it?" Keller asked sharply.
"Yeah," Womack answered softly.
Keller also pressed Womack about the fact that she didn't know of the lawsuit until after Tiny filed it, despite Tiny testifying earlier that she'd told her before she did.
"Before Ms. Harris filed the lawsuit, she didn't ask your permission, right?" Keller asked.
"No, but she's a great person and I trust her," Womack answered.
"OK. My question is not whether she's a great person," Keller said. "I'm going to ask you again: Before Ms. Harris filed the lawsuit, did she ask your permission? Yes or no?"
"No," Womack answered.
Keller's questions related to what she bluntly told jurors in her opening statement, "This case is about greed. It's a shakedown."
"The Hustle parties want $100 million for doing absolutely nothing," Keller said, referring to T.I.'s Grand Hustle LLC as the "aptly named Grand Harris Hustle parties."
Keller has repeatedly referenced "the Hustle parties" in a derisive tone, equating the word hustle with fraud.
In the first trial referred to their claims against MGA as the Harris family's "grandest hustle yet."
Tiny said in her direct examination last week that hustle refers to working hard and making a good effort.
OMG Girlz 'gave young Black girls the confidence…'
T.I. and Tiny's lawyers have tried to establish the group's relevance by showing jurors the accolades they received from Lady Gaga and Beyonce, as well as footage from a performance at Harlem's legendary Apollo Theater in 2013, features in magazines such as Seventeen and other honors.
They also showed jurors a 10-second clip from a video posted by the TikTok user marvelousimani, who said the OMG Girlz "gave young Black girls the confidence to wear their hair with color." (Selna overruled Keller's objection for relevance and hearsay.)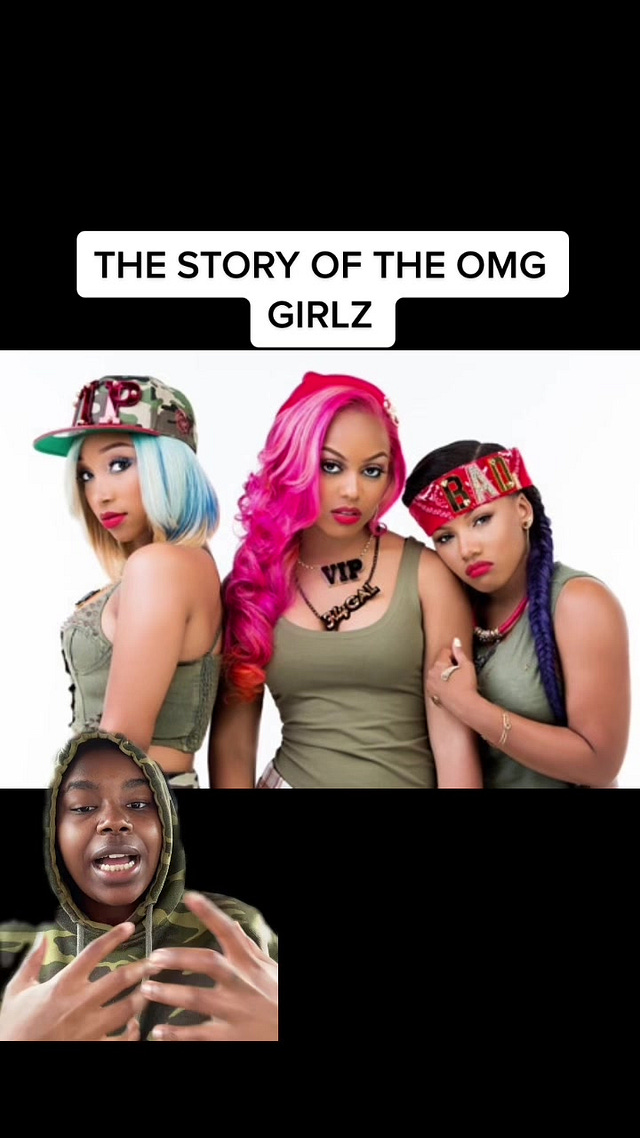 Tiktok failed to load.
Enable 3rd party cookies or use another browser
Girls saw the group on big platforms such as BET's 106 & Park, marvelousimani said, "and they were successful with, like, these really cool colors in their hair."
On the witness stand Thursday, Womack said fans continuing to recognize the group's influence "to this day is very honoring."
"It's something that's timeless because of the connection we made with our fans and also our look and how we put out our positive love for them," Womack answered.
The OMG Girlz last performed on New Year's Eve in 2017 for a reunion concert by Tiny's 1990s multi-platinum R&B group Xscape. MGA released dolls in 2019 that T.I. and Tiny's lawyers say are clearly based on outfits the girls wore at the concert.
Keller emphasized in her opening that much of the group's exposure came through T.I. and Tiny's reality show, T.I. & Tiny: The Family Hustle, which aired on VH1 from 2011-2017, then was reincarnated as T.I. & Tiny: Friends & Family Hustle from 2018-2021.
"With every advantage from parents who were super connected in the industry, they still didn't make it," Keller said.
She also described MGA's history of making dolls representative of different demographics.
"When a person believes a doll looks like them, it doesn't mean we copied. It means our designers are doing their job," Keller said.
'Your OMG band are nowhere. Trust me. Nowhere.'
The trade dress for the OMG Girlz includes the name OMG as well as combinations of vibrant hair color, experimental, fun, urban clothing such as voluminous skirts and edgy makeup with bold, over-the-top accessories.
Part of MGA's case involves showing jurors many other stars with outfits and hair similar to the OMG Girlz such as Nicki Minaj, Cardi B and Katy Perry. T.I.'s and Tiny's lawyers have emphasized that none of those artists also uses the phrase OMG in a combination that inspires confusion with the OMG Girlz.
Keville said in his opening that MGA's case is about "the three Ds: Deny, distract and demean." He showed jurors a clip of Larian, the MGA CEO who's seated in the courtroom with Keller and Scolnick, saying combatively in his deposition, "Your OMG band are nowhere. Trust me. Nowhere."
Larian also said he hadn't looked at photos of the OMG Girlz but said he knows "they are not similar. That is insulting."
But as it turns out, Keville told the jury, even MGA employees were confused by the similarities between the OMG Girlz and the company's OMG dolls.
Keville displayed in his opening a December 2019 internal OMGA email in which an employee excitedly shared that the OMG dolls were referenced in a music video that said, "Like an OMG doll I'm a beauty."
Other employees sent celebratory replies until one broke the bad news: "I think they're talking about OMG Girls, not OMG dolls. :("
MGA says Tiny's demand letter was a 'flat-out lie'
MGA's case partly involves showing the commonality of the colored hair, fun outfits and OMG phrase that comprise the OMG Girlz's trade dress.
Keller and Scolnick are trying to show jurors the OMG Girlz had no set trade dress and instead embraced an evolving look that is akin to spinning a wheel of popular trends. They're also trying to show the claims are purely financially motivated and involve protections for the OMG Girlz' supposed intellectual property that simply isn't deserved.
Last week, Scolnick pressed Tiny about the application she submitted to the U.S. Office of Patent and Trademark for the OMG Girlz LLC, which was approved in 2013. The application acknowledged OMG is a widely used phrase unworthy of broad protection.
"I'm not here just for the name. I said it was collectively," Tiny said.
"Can you just focus on my question? Isn't that the representation made to the government in 2012 or 2013?" Scolnick asked.
"If that's what you put up, then yes," Tiny answered.
Keville tried to show jurors how the situation has since changed by asking Tiny in re-direct, "Here, have you already seen evidence of confusion between the OMG Girlz band and the OMG dolls?"
"Yes, because like I said, if you Google one or the other, they come up together," Tiny answered.
Tiny told Sconick in re-cross, "I'm here because of the trade dress ... if you could take away the name and just have dolls maybe with colored hair, maybe I wouldn't be here."
Another big part of MGA's case is a letter Tiny sent MGA in December 2020 about the dolls in which she said she'd spoken with company representative about a possible line of dolls based on the OMG Girlz, and that MGA representatives announced the plan during a Bratz toys giveaway the OMG Girlz hosted in Atlanta.
Tiny testified she can't remember who the person was and doesn't know for sure if they were affiliated with MGA; Keller said in her opening that the claim has always been a lie aimed at securing unearned money from MGA.
MGA never replied to Tiny's demand letter and instead filed the federal lawsuit currently being tried, which seeks declaratory relief that the company doesn't owe the OMG Girlz anything.
T.I. and Tiny have their own counterclaims against MGA, including trade dress infringement, likeness misappropriation and unfair competition. They also are seeking punitive damages.
Keller told the jury that MGA's swift action and Larian's combative demeanor stem from his knowledge that Tiny's claim about a possible licensing agreement "was just a flat-out lie — extortion."
She drew the jury's attention to another video deposition she said was actually disrespectful: The deposition of T.I. She played a clip that showed the rapper, clad in a colorful blue and white shirt, being asked the ages of the girls when they joined the OMG Girlz and repeatedly answering in a sing-songy voice, "I don't know," while dancing in his seat.
"I guess he thinks that's funny. Talk about not taking the court and you seriously," Keller told the jury. At least one juror smiled and laughed as the video played.
T.I.'s 'storied history as a prolific Atlanta crack dealer'
Judge Selna said after the Jan. 25 mistrial that he didn't believe questions about T.I.'s profane lyrics or other unsavory issues involving the rapper and his family are relevant to the lawsuit.
He ordered MGA's lawyers to file a brief explaining why they should be allowed to mention profane lyrics or other things such as the Los Angeles District Attorney's Office now-closed sexual assault investigation into T.I. and Tiny.
MGA secured at least a partial victory after filing a declaration from Lora Stephens, a doll designer who said she learned of the OMG Girlz from watching T.I. and Tiny's show and knows MGA would never design a doll affiliated with T.I.
"That is because T.I.'s music uses profanity, embraces illegal hard drug use, and, most importantly, is disrespectful and demeaning to women," according to Stephens' declaration.
Stephens, who is Black, said T.I. "is one of the pioneers of 'trap music,' which is a subgenre of hip-hop music and is named after the word 'trap' which refers to a house used exclusively to sell illegal drugs."
"T.I.'s music also celebrates his storied history as a prolific Atlanta crack dealer," she said.
(Keville told the jury last week that Stephens didn't start designing OMG dolls until 2021, after the company had already copied the group.)
In a pre-trial order, Selna called "viable" MGA's theory that it wouldn't design dolls based on people with tawdry behavior and associations, but he also said the evidence MGA wants to present "is prejudicial in the extreme, and most people would find it offensive and some of it despicable."
"It sheds absolutely no light on whether the OMG parties' intellectual property has been unlawfully misappropriated," Selna wrote in a May 8 minute order.
"The Court intends to keep the focus of this case on the intellectual property, and will not allow the case to descend into a mire of distracting salacious activities and conduct," Selna wrote.
The judge held an evidentiary hearing before trial to hear Stephens' direct testimony to help him decide what exactly she'll be allowed to say in trial. She'll testify as part of MGA's case. T.I. also is expected to take the stand, so he'll be questioned about his lyrics then, too. (If MGA lawyers take requests, "Motivation" is one of T.I.'s all-time bangers.) UPDATE: He wasn't questioned about his lyrics; apparently the pre-trial ruling allows the questions only for MGA doll designer Lora Stephens.
MGA's other celerity doll infringement scandals
T.I.'s and Tiny's lawyers argued MGA's denial that it models dolls off celebrities opens the door for them to tell jurors of other scandals involving MGA dolls.
According to a March 3 filing:
"In particular, MGA's LOL Surprise Tots, (from which the OMG Dolls were allegedly born) when dipped in water bear sexual bondage, lingerie, tattoos of various insignia. These dolls are claimed to be the toddler-aged 'younger sisters' of the OMG Dolls and are marketed to girls whose age skews younger than the market for the older, possibly-teenaged OMG Dolls."
They also cited Larian's public fight with Amina Mucciolo, "a Black creative and style influencer [who] publicly accused MGA of basing an LOL Surprise Tot doll, named Rainbow Raver, on her."
The March 3 filing stated:
"Ms. Mucciolo met with MGA's marketing team, and a few months later she saw the doll for sale bearing a striking resemblance to her turquoise ponytails, rainbow outfit, and matching bag. Mr. Larian responded to Ms. Mucciolo's public accusations by publicly tweeting that she is a 'Disgrace to Black Community.' MGA has demonstrated its desire to sell to diverse audiences—but it is not clear that Black creatives whose looks are used by MGA to help reach these demographics are compensated, instead calling the creatives 'reprehensible' for protecting their IP."
Selna already prohibited Mucciolo's dispute with Larian from being mentioned when he granted MGA's pre-trial motions to prohibit the mentioning of other alleged acts of infringement or misappropriation and to prohibit jurors from hearing accusations of cultural appropriation and racism.
The judge has made many similar decisions during trial regarding what exactly can be presented to jurors, including during the first trial when he prohibited Keller from questioning Zonnique about photographs she posted to Instagram of herself extending her middle finger to the camera in front of a courthouse bathroom mirror.
Keller extended her own middle finger to Zonnique from the lectern to demonstrate the gesture, but Selna cut off the questioning.
In her opening statement last week, Keller appeared to reference the photos when she asked jurors not to be influenced by T.I. and Tiny's celebrity "even if you knew of them, even if you thought they were kinda cool."
"Avoid being influenced by any theatrics that you see, in the courtroom, in the hallways, in the bathroom or anywhere else," she said. "Public displays of affection, invoking God or dressing up like the long-gone OMG Girlz band: Anytime you see those theatrics please make a mental note not to be influenced or manipulated."
The trial continues Tuesday. I'll be in Los Angeles for closing arguments in actor Danny Masterson's rape trial, but I expect to have more coverage of the OMG Girlz trial before it closes.
Links to PDFs of key filings in this case are available below for paid subscribers to Legal Affairs and Trials with Meghann Cuniff. If you're not a paid subscriber, please consider upgrading to support my independent legal affairs journalism.
This post is for paid subscribers