Discover more from Legal Affairs and Trials with Meghann Cuniff
In-depth news on trials and other legal affairs in Southern California from an experienced journalist.
Over 8,000 subscribers
A$AP Rocky to stand trial for first-degree assault w/ firearm: Full video of prelim hearing
A judge in Los Angeles ruled on Monday there is probable cause to charge the superstar rapper with two counts of assault. She allowed us to film the hearing.
Rapper A$AP Rocky will stand trial for allegedly shooting a former friend on a Hollywood street two years ago after a judge in Los Angeles ruled Monday that probable cause supports his two counts of first-degree assault with a firearm.
Legal name Rakim Mayers, 35-year-old Rocky is to return to court on Jan. 8 for an arraignment in which he'll enter a standard plea of not guilty. He remains out of custody on $550,000 bond.
Los Angeles County Superior Court Judge M.L. Villar said she only needed "a scintilla of evidence" to find probable cause, but in Rocky's case, "there is sufficient evidence to find the charges crimes were committed and more than sufficient cause to believe that Mayers is guilty of having committed as charged."
She cited "the totality of the video and testimonial evidence from the complaining witness," who is Rocky's former friend and high school classmate Terell "A$AP Relli" Ephron.
Judge Villar said the video from Nov. 6, 2021, shows Relli meeting Rocky and two friends "and immediately a gun is seen." (A detective testified earlier Monday about still images from the video that show Rocky holding a gun.)
Relli follows Rocky, and Judge Villar said she "can only question why he would do that."
"But as he indicated in his testimony, he was upset and he wanted to let Mr. Mayers know the full extent of his anger at that point," Villar said.
Villar said she agrees with Rocky's lawyer that the next video doesn't show "an actual shooting," but in another video, "you do hear two shots."
Rocky, who is megastar Rihanna's partner and the father of her two children, left the courthouse without commenting. His lead lawyer, Joe Tacopina, said he's "certain Rocky is going to be vindicated when all is said and done. Without question."
Tacopina, one of former President Donald Trump's lawyers, had a Trumpian tone to his comments, telling reporters, "There's some evidence that's going to be insurmountable. The witness is not going to be able to withstand cross-examination in front of the jury. We have a lot of evidence that's going to be unveiled at trial. Not here."
Tacopina said he's not disappointed or surprised by Judge Villar's decision because, "We expected it to go to trial." He said he's never asked for a plea agreement.
"We're not taking a plea. There's never going to be a plea in this case. Never," Tacopina said.
Tacopina argued in court that the evidence against Rocky isn't reliable. The overall defense is Relli is lying about the shooting to try to get money out of Rocky, and that Relli himself scraped the knuckles he testified were grazed by a bullet.
Tacopina laughed when asked about Relli's knuckles outside court.
"That's why the jury is going to come into play here. Common sense is going to prevail," Tacopina said. "We're going to get him through this and he's going to be vindicated. The evidence we have that they don't know about is going to be devastating. Devastating."
Asked what he would tell Rihanna if she wanted to go to court to support Rocky, Tacopina said Rocky "would never subject his family. He wants to shield them."
"He's handling it like Rocky would handle something. He protects his family," Tacopina said.
Judge Villar allowed a videographer to film the entire second day of the hearing, so I spent a lot of time getting all the footage together and uploading it to YouTube.
Here's a video of her explaining her ruling:
Villar said though video doesn't show the shooting, "Mr. Ephron does what appears to the court to be a dance around one of the other individuals to avoid being shot, and his testimony is he was shot. And there is evidence of that, the clips that were shown of his knuckles and so forth."
The judge acknowledged Relli's testimony that a video of someone purportedly picking up shell casings after the shooting was not him. Tacopina implied Relli planted the shell casings he claims he found at the scene. Relli has said he collected them after speaking with a lawyer, but Los Angeles police Detective Frank Flores confirmed Monday that phone records show Relli made no calls to an attorney during the time between the shooting and when Relli said he returned to the scene.
Tacopina played audio of a March 2022 interview with Relli's former girlfriend, who said she and Relli decided to search for the casings themselves.
Judge Villar, though, didn't seem persuaded by the argument that a shooting never happened: She referenced in her ruling the video that includes the sound of two gunshots.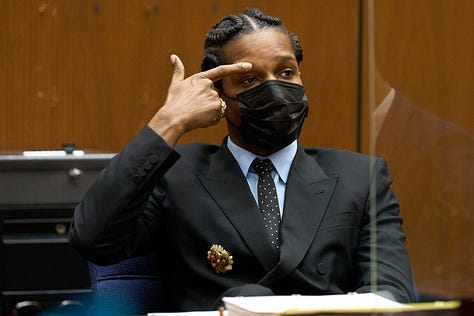 The judge emphasized the probable cause standard "is a low burden."
"In a preliminary hearing, the standard of proof is much different than what is required at trial and is simply whether or not there is probable possibly the charge crimes are committed," Villar said.
Villar also said Relli sustaining "only minor injuries is not to be considered by the court."
Relli testified on Nov. 8 that the first bullet grazed the knuckles on his left hand. The evidence against Rocky includes a photo of Relli's knuckles taken at hospital in New York after he returned there from Los Angeles.
Villar's decision to allow a videographer means I got to upload an hour-long video of Tacopina's cross-examination of Flores to YouTube. It includes Judge Villar scolding him for making side comments to Deputy District Attorney Paul Przelomiec.
"Counsel, I'm not going to allow you to engage in that conduct," she told Tacopina.
"I'm going to ask that you tone yourself down. Way down," Villar said.
"Sure," Tacopina said. (Tacopina did manage to score a victory later on when Przelomiec interrupted him and he got Villar to scold him for it.)
Rocky was arrested in April 2022 at the Los Angeles airport as he returned from Barbados with Rihanna, and police raided the couple's home in Los Angeles. He posted $550,000 bond and has been out of custody ever since.
Relli is suing Rocky and Tacopina for defamation, and he's represented by Benjamin Chew and Camille Vasquez of Brown Rudnick LLP, the same lawyers who represented Johnny Depp in his defamation lawsuit against Amber Heard. Relli has another lawsuit against Rocky for assault, battery, negligence and intentional infliction of emotional distress.
Judge Villar shut down Tacopina's questions about the lawsuits and Relli's hiring of a civil lawyer, saying she doesn't believe the issue is relevant to whether probable cause exists. That included Tacopina's questions about Relli's lawyers contacting Rocky's lawyers the day after he was arrested to discuss a civil settlement.
Flores was the only other witness in the hearing besides Relli. He testified Monday about collecting the surveillance video and extracting still images from it, including one he said shows Rocky holding a gun.
Here's a video of closing arguments:
Here's my article on Relli's testimony:
Here are photos from the first day of the hearing on Nov. 8: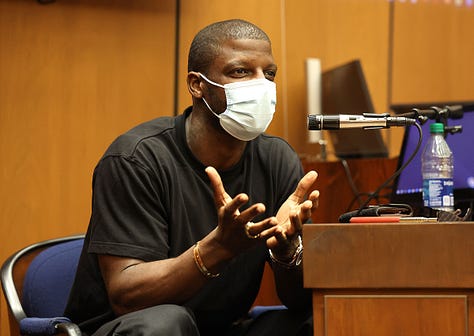 ---
Thank you for supporting my independent legal affairs journalism. Your paid subscriptions make my work possible. If you're not already a paid subscriber, please consider purchasing a subscription through Substack. You can also support me through Venmo (MeghannCuniff), CashApp ($MeghannCuniff) and Zelle (meghanncuniff@gmail.com). Thank you!
Legal Affairs and Trials with Meghann Cuniff is a reader-supported publication. To receive new posts and support my work, consider becoming a free or paid subscriber.